My lovely bloggy friend
Rusti
hosts a wonderful blog meme/link up every week. Every week I read it and I giggle. Who doesn't giggle at the title SHIT? I know I do (then again I'm mentally 12).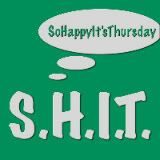 Reasons I'm So Happy Its Thursday
Its almost Friday which means a LONG weekend!
It has to be better than Tuesday right!? Right?
Tassimo is set to deliver my new order of coffee to the office (I ordered the iced coffee)
I'm in discussions with a company for a review/giveaway on my blog!
Its also Marcie's Thirsty Thursday blog hop which I really enjoy! (I find all kinds of awesome bloggers to follow)
It's a long weekend to spend with my little adorable baby girl! I think I'm gonna mess around with my camera to take some new pictures of her for her portfolio!
So now its your turn to tell me why you are so happy its Thursday!?